Rocky Boy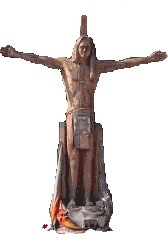 KOG is developing and strengthening our partnership with Our Saviour's
Lutheran
Church
and the Rocky Boy Indian Reservation. Last spring 2009, a dozen people of all ages from KOG traveled to Our Saviour's to build bunk beds for their retreat center and to get to know our Native American brothers and sisters.
Check back here periodically for updates on our relationship with Our Saviour's and the people of Rocky Boy.
Our Saviour's
Lutheran
Church
is an ELCA congregation that serves the Rocky Boy Indian Reservation. They have about 25 active, multi-cultural members.
Ministries of the Church include:
Layette ministry for newborns

College & University Scholarships

Sewing Club

Chidren's Christmas Gift Giveaway

Thrift Store

Organize and Host Servant Groups
About the Rocky Boy Indian Reservation
Rocky Boy's Indian Reservation provides a home for about 4,500 members of the Chippewa-Cree tribe. One story has it that the name "Rocky Boy" was derived from the name of a leader of a band of Chippewa Indians. It actually meant "Stone Child," but it was not translated correctly from Chippewa into English, and the name "Rocky Boy" evolved. The reservation is near the Canadian border, in northcentral
Montana
. It is graced by the
Bear
Paw
Mountains
, which provide dramatic contrast to the flat bottomland of the area.
Rocky Boy's residents who work on the reservation are employed by the schools, Indian Health Service, and tribal government. There are also ranching, wheat farming and post-pole production on the reservation. The tribe is actively working toward development of its natural resources to be able to provide more jobs and income for its people.
Stone
Child
College
is located in Rocky Boy's Agency. A two-year college, Stone Child offers associate's degrees in Arts and Sciences. There are future plans for a cultural center on the campus.
[
back
]